The Arlo two-way audio feature allows you to communicate with people who are near your Arlo camera. Available on the Arlo Ultra Series, the Arlo Pro Series (Pro 3 and newer), Arlo Go 2, Essential Series, and the Video Doorbell Series, it's an invaluable feature that you can use for communicating in complicated situations like greeting visitors at your door, warn off trespassers, welcome visitors at your door, and lots more.
While there's no argument about its usefulness, there's been a lot of underwhelming reports of customers claiming that the two-way audio feature doesn't work on their camera – when they've got a model that supports the feature. Some even complain about it stopping abruptly without any evidence of hardware damage.
If you happen to be among this category of unsatisfied customers, you'll want to continue reading. We'll be highlighting possible causes of this issue so they can be avoided in the future, and also how to solve it if it has already happened.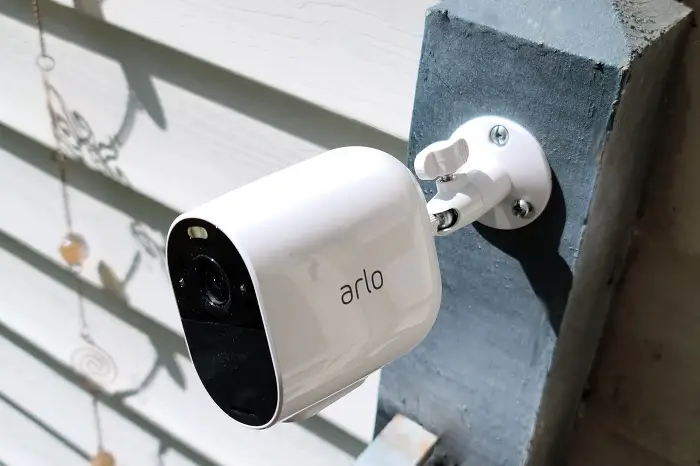 Arlo Two-way Audio Not Working: Possible Causes
There are two types of two-way audio on Arlo cameras; the Push-to-talk where you need to press and hold the microphone button in the Arlo app to speak, and the Full-duplex which allows you to speak and listen at the same time. Whichever type you've got, the causes of these problems and course, solutions are quite similar.
Weak/Bad Internet Connection
The Arlo two-way camera uses a technology called VoIP (Voice Over Internet Protocol) to transmit audio – the feature needs an internet connection to work. The audio received from the camera is transmitted over the internet, as such, if you don't have a strong internet connection, their feature will be inaccessible.
Wrong Motion Detection Settings
Arlo cameras employ advanced motion detection settings that allow users to customize how the camera detects motion and records audio. In a case where you decrease the sensitivity level or have any other parameter set incorrectly, you may not be able to pick audio signals from the camera outside.
If you mounted your camera in a spot with interferences from signals of devices like a microwave, or cordless phone, then chances are you won't be able to use the two-way audio. At the same time, the kind of building material on the way may prevent it from setting signals to your smartphone.
This is usually the problem with people who are just getting their devices for the first time, test it at close range, see it works but it suddenly stops when they go to mount the camera on the gate.
Outdated Camera Firmware or App Version
The firmware of your Arlo camera may have become outdated or there may have been an update from Arlo to fix the two-way audio issue for your specific device model. You'll want to check the firmware if it's updated before making any conclusions.
Arlo Two-way Audio Not Working: How to Fix
The Arlo two-way audio failure is an issue that has been reported by many clients, and it's well-acknowledged by the company.
While constant measures are being taken to rectify the problem, we must emphasize that there's not much you can do if you're faced with this issue. Even though it might result in you eventually making a warranty claim with customer support, here are some troubleshooting measures you can try.
Check your Internet Connection Strength
As said earlier, the Arlo two-way audio feature uses VoIP, as such, it may not be able to perform optimally with a poor connection. If you use a prepaid connection, check if you've still got an internet subscription on your bundle.
If there is, you'll need to confirm the speed of your connection with sites like speedtest.net and fast.com if it's healthy enough to run the feature. This is usually the solution when you notice that the sound is consistently breaking; not that it's completely nonfunctional.
Clear App's Cache and Restart the Camera
In most cases, the best fix is completely erase records of your previous activities with the camera by clearing the device. This is quite effective when the two-way audio used to work, but somehow, maybe because of settings you've made, it suddenly stopped working.
To clear the app's cache, simply navigate through your phone's app settings, and clear the storage and cache. If you want to have the same effect as reinstalling the app, click on "Clear Storage." Next time you open the app you'll need to do all the setups from scratch.
Next, you'll want to long-press the camera's reset button for about 10 seconds. When the reset is complete, your device will restart.
Check your Camera's Firmware and Update if Necessary 
Arlo acknowledges that sometimes, the two-way audio failure isn't related to a hardware problem, as such, there are updates always being rolled out to address the problem in specific models. To check/update your Arlo camera firmware, you can follow the steps below.
Open the Arlo app on your smartphone while both devices (phone and camera) are connected to the internet.

On your Arlo account, navigate though Settings >> My devices >>

select camera

>> Device Info >> Firmware

If there's an update for that specific camera, you'll find it here. Click on the update (if any) and follow the update wizard to complete.
Depending on where you're purchasing from, Arlo offers warranty packages for most of the camera models. Contact customer support to see if you qualify, and how to claim yours. While it's not exactly a fix as a warranty claim can take about 3 weeks (on average), it's a way to get your money's worth, if the replacement doesn't have the same issue.