In as much as the manufacturing location of audio products can play a minute role in the quality of products dished out, it is necessary to also look at the brand concerned. KEF is a top-leading speaker brand originating from the heart of Maidstone, Kent, UK; and standing for more than 6 decades.
Still, it's absolutely normal to ask: Where are Kef Speakers made? Especially if you are concerned about the brand's integrity, and whether or not the speakers you got are the best of KEF.
In this blog post, we will not only dive into the manufacturing locations of KEF speakers; but we will also fact-check their origins, their philosophies and explore how KEF gradually expanded up until today.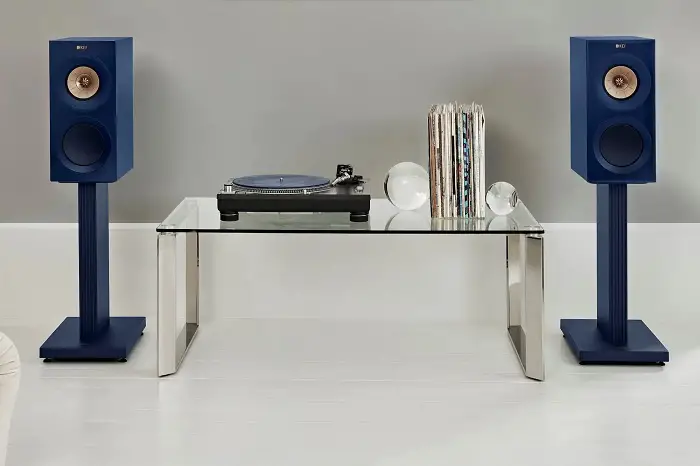 Where are KEF Speakers Made?
KEF speakers are made in China, but they apparently still maintain the manufacturing of some speaker series in the UK. Initially, like many of its counterparts, KEF speakers were entirely produced in the UK before they were acquired by Gold Peak Group – a  Hong Kong-based multinational corporation – in 1992.
It's important to mention that, up to now, all KEF speakers have their research, design, and engineering conducted in Maidstone, UK. Also, the speakers they make in their China factory use exactly the same machines as in Maidstone.
Origin of KEF in Maidstone, Kent, UK
Having trained at BBC as an engineer and working for Gilbert Briggs at Wharfedale for five years, Raymond Cooke was ready to start out his own speaker company. And, he did. Leveraging technology with his strong penchant for quality sound, Raymond Cooke founded KEF in 1961.
The name of the company is an acronym for "Kent Engineering and Foundry", and it was located in a Nissen Hut in Tovil, Maidstone. The first KEF speaker was the three-way K1 whose drive units were made with the use of synthetic materials rather than the conventional paper materials in vogue at the time.
After Raymond Cooke rekindled his former connection with the BBC, KEF took on the exclusive manufacture of the LS5/1a monitor which was designed for studio broadcast monitoring.
By the late 1960s, Kef had become a well-recognized company in the audio industry, so much so that many companies worldwide were incorporating Kef's drive units into their own systems. As Kef's popularity grew beyond the UK, so did their achievements. In 1970, KEF received the first prestigious Queen's Award for export.
Decade after decade, Kef always had something worthy to show: they launched their first Reference Model in the 1970s; the groundbreaking first Uni-Q driver in the 1980s; the Coda 7 and Q Series in the 1990s. Sadly, however, the founder – Raymond Cooke OBE – died in 1995. At that time, The New York Times had recognized Kef as "a leading audio company in Europe". The Japanese Press too had voted Kef "the best imported Speaker".
Expansion of KEF to China
All this while, Kef had managed to keep their manufacturing in Maidstone, Kent, England. In 1992, the Gold Peak Group – a Hong Kong-based multinational corporation – acquired Kef. It was a move that allowed the brand to expand its operations globally, while still keeping up with progressing demand.
In 2003, KEF and Celestion's manufacturing activities were brought together under the name KH Manufacturing Ltd. Fast forward to now, Kef had continued to carry on the heritage established by Raymond Cooke.
More recently, in 2020, KEF incorporated Metamaterial Absorption Technology (also known as MAT) into their speaker design – a structure that helps eliminate unwanted sound resulting in a purer, more natural output.
KEF Speakers Still Made in the UK
Although they are sold at a more expensive list price, specific editions of Kef speakers are still crafted exclusively in Maidstone, England; all remaining variants are manufactured at their Chinese factory.
The UK-made Kef broadly includes the Reference models, premium Blade 2's, and the Kef Muon speakers. Below, we've outlined a selection of Kef speakers crafted in the UK.
Hi Fi Speakers:

Reference 5 Meta, Reference 4 Meta, Reference 3 Meta, Reference 2 Meta, Reference 1 Meta.

Subwoofer:

Reference 8b.

Architectural Speakers:

Ci5160REFM-THX, Ci3160REFM-THX.

Accessories:

The Reference Grille

Standing Speakers:

Kef Muon loudspeaker.
Those made in Kef's China factory include The Q and R series, the KQ series, and many others.
Are KEF Speakers Made in China? – Quality Concerns
Yes, many KEF speaker models are made in China. And despite that, there have been lots of user concerns over inferiority in quality (to the UK-made ones), it should be noted that the acoustical technology research and development of all KEF Speakers are done by engineers at the original Maidstone site in England.
Also, Kef has an up-to-par quality control system: every aspect of their speaker is carefully evaluated before it earns the KEF badge.
Moreover, China-made speakers can be excellent. In fact,  more high-end speakers are produced in China than almost anywhere in the world. Home to top audio brands like Quad, Wharfedale, Aurum, Celestion, Cantus, Era, LSA, Von Schweikert; China is definitely thriving in the audio industry today.
Wrap-up
In the blog, we've found out about the historical and present manufacturing locations of KEF International. We've also discussed how the move to China was, in fact, a means of striking a balance between high-end products and affordability.