Kicking off the Hi-Fi era in the 1940s, Klipsch has been consistently captivating listeners worldwide with their immersive and powerful sound experiences for a long time.
For audiophiles and Klipsch fanbase worldwide, it becomes a big question whether Klipsch has compromised on its heritage – its American heritage – over the years. Are they now made in China? Are Klipsch Speakers made in China fake? Are Klipsch speakers still made in the US?
In this article, we will shed light on the historical locations of Klipsch speakers and explore their expanding manufacturing locations today.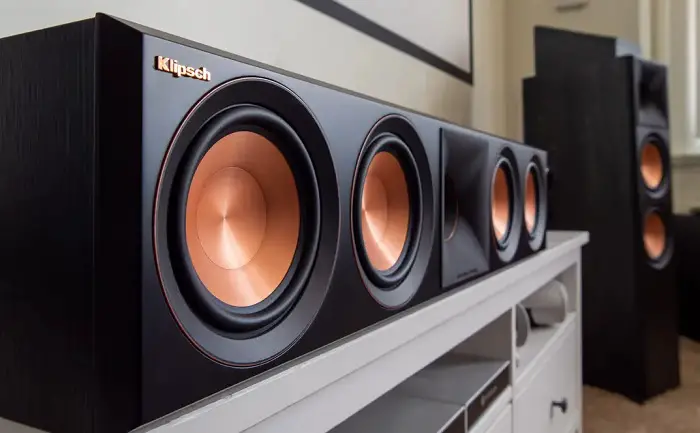 Where are Klipsch Speakers Made?
Klipsch speakers are presently made in the United States, Mexico, Denmark, and China. They were originally manufactured only in the United States before spreading out to branches in China, Denmark, and Mexico.
It is worth noting that each branch has within itself the capacity to produce a stand-alone speaker. Therefore, depending on your location, proximity, and store of purchase, your Klipsch speakers may be made in China, the US, Denmark, or Mexico. The Klipsch heritage series and a few others, however, are still fitted and finished in the United States.
Origin of Klipsch in Hope, Arkansas
In the early 1930s, Paul W. Klipsch discovered that horn-type radio speakers sound better than the corn-type and that they sound better from a corner. Using these ideas, he refined his design and eventually developed a crude prototype of Klipschorn in 1938.
It was really good that visitors to his quarters were astounded by its ability to produce sounds that closely resemble those in real life. They encouraged Paul to start his own speaker-producing business.
In 1946, Paul W. Klipsch established the company, and named it "Klipsch and Associates," having received a patent for his Klipschorn speaker design in 1945. The company began selling speakers from a tin shed located in Hope, Arkansas, United States.
It was also in Hope, Arkansas that Klipsch got his first factory building in 1948. Today, this original factory is now the Klipsch Museum. Klipsch would later go on to release the Klipsch Heresy IV in 1957, and La Scala speaker in 1963, amongst others – all made in Hope, AR.
Klipsch moved to Indianapolis, US
In 1985, at age 85 years old, Paul W. Klipsch sold Klipsch & Associates to his second cousin, Fred S. Klipsch, who was a businessman in Indianapolis, along with his wife, Judy.
Although the manufacturing process continued to be carried out in Hope, Arkansas, the company's business operations were shifted to Indianapolis, Indiana. As part of this transition, the company was renamed "Klipsch, Inc."
In 2000, Klipsch relocated to its present headquarters on the northwest side of Indianapolis. Again, the company changed its name, becoming known as Klipsch Audio Technologies.
Global Expansion: Klipsch International Manufacturing
The early 2000s was for Klipsch mainly about gaining more ground globally. As of 2001, it was already one of the most advanced audio research facilities in the Midwest.
They acquired Jamo, a Denmark-based brand, to further accelerate growth. They also acquired the Audio Products International (API). By 2011, Klipsch Group Europe had established another headquarters in Paris, France. This was after Klipsch Group was purchased, and Paul Jacobs was appointed the CEO.
Are Klipsch Speakers Made in China?
Yes, some Klipsch speakers are now made in China. To remain competitive in the global market, Klipsch recognized how important it is to establish a manufacturing presence in Asia.
Since China is a region known for its expertise in electronics manufacturing, it's a double win for Klipsch. The facilities in China maintain Klipsch's high-quality standards, ensuring that the speakers produced there match the excellence of those made in the USA.
Mexico: Meeting North American Demand
To meet the high demand for Klipsch speakers in North America, the company also invested in manufacturing facilities in Mexico. Through this, Klipsch was able to effectively serve the North American market while keeping costs under control and making their products easily accessible to consumers.
Are Klipsch products made in the USA?
Despite user concerns over Klipsch's manufacturing locations, the company has specifically stated that all of their speakers are designed, engineered, and tested for quality control in the US, or Canada. Though, they are manufactured in various countries including the likes of China Mexico, and the US.
If you are on the lookout for those made in the USA, You can check the Klipsch Heritage Series including Klipsch Jubilee, Klipschorn, La Scala, Cornwall, Forte, and Heresy; the Klipsch THX Ultra2 series; and Klipsch Pro Speakers. The speakers are still put together, fitted, and finished manually without the use of robots in Hope, Arkansas.
The Location Impact on Klipsch Speakers' Sound
One question audiophiles often ask is whether the location of manufacturing affects the sound signature of Klipsch speakers as were made in the 1900s.
While factors such as climate, craftsmanship, and available local materials can play an impact, Klipsch's dedication to maintaining uniform design and thorough testing helps ensure that their speakers maintain their unique sound qualities, no matter where they are produced.
Wrap-up
To think that Klipsch has been in the industry since 1946 till date – the longest run in speaker production history – is absolutely mind-blowing.
Standing tall after more than 70 years of establishment means they've evolved over the years, blending its American heritage with global expansion to countries like China, Denmark, and Mexico; while maintaining its status as a hi-fi legend in the audio industry.