Bose Soundbars are products of an audio-centric brand, focused on giving a premium feel to consumers who are seeking to improve the audio from their TV sets, or home-theater systems.  Their soundbars produce neutral and well-balanced audio, with sturdy features that are just as sleek. 
However, it's not always a bump-free ride with Bose soundbars. Despite the ease of operation of the product, there are a couple of problems that you could encounter. One of such is the issue of no sound.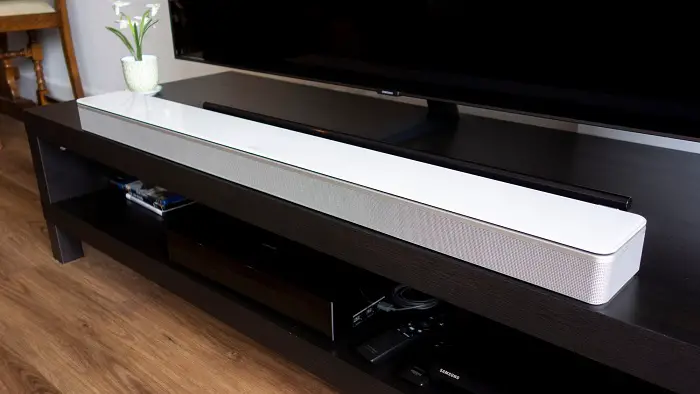 Bose Soundbar No Sound: Possible Causes
There are a couple of reasons why your Bose soundbar might not be producing audio. In the course of this guide, we will walk you through the various reasons why this issue might arise, and how to troubleshoot them. 
Before we dabble into specific issues that your Bose soundbar may have and how to fix them, first take a look at the following steps, to ensure that your soundbar is good to go: 
Ensure that your soundbar is properly plugged in and connected

Ensure that your soundbar is connected to your desired audio source 

Make sure the Bluetooth and WiFi connections are strong and stable

Your soundbar should be kept away from other possible interfering devices, like a microwave, router, etc. 
If after carrying out the aforementioned steps, and your soundbar is still not producing audio, check out the list below for possible causes. 
Some users may think that their Bose soundbar isn't working, whereas, in truth, it might just be a case of low volume levels. In this case, your soundbar may be functioning perfectly, but because the volume levels are low, you are unable to hear the sound. 
Checking the condition of your HDMI connection cable should be next up on your checklist of why your soundbar isn't producing audio. A defective HDMI cable could cause frequent interruptions in sound production, or stop it altogether. 
In other cases, the connection cables might be in perfect condition, but the connection is loose or was poorly done (i.e. cables were connected to the wrong ports). In some other cases, the connection might need a reset. 
Multiple Connected Devices
Network overload might also be the cause of no sound production. This is likely to happen, particularly if you have more than one Bose system, or other devices sharing a network. 
Consumer Electronics Compliance (CEC) is a technology that allows audio devices on an HDMI network, to communicate with one another. Given the numerous brands and models of HDMI devices, it shouldn't be surprising that not all devices can communicate as expected. If your Bose soundbar isn't compliant with CEC standards, it may lead to some issues. 
Enhanced Audio Return Channel (eARC) Problems
It is worthy of note that Bose Soundbars are not equipped with eARC functional features. If the eARC option is activated on your TV set, sound interruptions are likely to occur. 
Like every other modern audio device with firmware, your Bose soundbar firmware would require updates occasionally. If these updates are not done from time to time, problems with your sound and other functionalities will arise. 
In more complex cases, your Bose soundbar might just need a factory reset to function properly again. Step-by-step instructions on how to carry out a reset will be given below. 
Bose Soundbar No Sound: How To Fix 
Thankfully, most of the problems listed above can be fixed by carrying out a few troubleshooting steps. By following the solutions provided below, you should have your Bose Soundbar up and running, in no time. 
If it's a case of low volume levels, you can correct this by simply turning up the volume. Ensure that the soundbar's volume is not muted, or extremely low. It's advisable to adjust the volume settings both on the soundbar itself, and other connected devices such as the TV set or audio source, using a remote control. 
Proper connectivity spans across the state of the connection cables, the connection itself, and other connected devices on the network. You can check the condition of the HDMI cable by up-close physical inspection. Also, double-check the connection elements in the system. 
The connection has to be proper and secure on both ends, with cables connected to their respective ports. You can also carry out a HDMI connection reset, by unplugging and turning off both the Bose soundbar and audio source. Wait for at least 60 seconds before reconnecting the cables, and turning the system back on. 
Furthermore, open up the Bose Music app, and make the right selection to ensure that the sound is coming from your desired source. On the app, simply navigate to the My Bose icon on the upper-right corner, to view your music products. 
Ensure Device Compatibility
This bothers on CEC and eARC regulations. The standards have to be permissible on both the soundbar and audio device, to avoid interruptions. To enable HDMI-CEC functionality on your Bose Soundbar, open up the Bose Music app and navigate to the Settings icon in the upper right corner. 
Scroll down to the Power Section, and click on Advanced CEC. There you can enable or disable CEC functionality, by turning it On/Off respectively. You can also turn off the CEC option, and deactivate the eARC functions on your TV set. 
Update System Software Regularly
Stay in the loop with the latest Bose soundbar software. You can download the firmware upgrade online, and transfer it to your soundbar via a USB. 
To factory reset a Bose Soundbar, follow these steps:
Turn off the soundbar 

Press and hold down the

Power

and

Skip Forward

buttons on the remote, for 5 seconds.

Release the buttons when the soundbar light bar glows solid amber.

The soundbar will reboot and reset to factory default settings.
Once the reset is complete, you will need to set up the soundbar from scratch. If you have a Bose Soundbar 300, press and hold the Play/Pause and Volume Down buttons on the remote for 5 seconds, to factory reset it.
Do note that a factory reset will erase all of your soundbar's settings, including Wi-Fi passwords, Bluetooth pairings, and volume preferences.
Customer Support
Sadly, basic troubleshooting options may not fix all issues. If all else fails, then your last resort is to contact the brand's customer service and seek assistance from experts.